You must allow cookies and JavaScript for a proper shopping experience.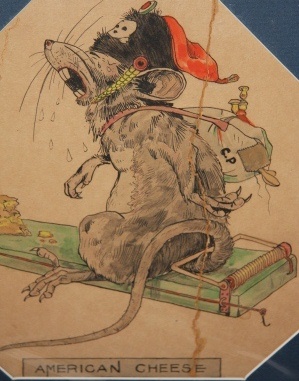 Price: $100.00
Seller ID: 002370
Condition: Good
---
N.d., circa 1943, cartoon proof of Mussolini as a mouse whose tail is caught in a mouse trap. Even without the historic context, this is a delightful watercolor. Now mounted and matted, the paper used was brittle, and thus there are two fractures or cracks in it, one running the entire vertical length.
View More...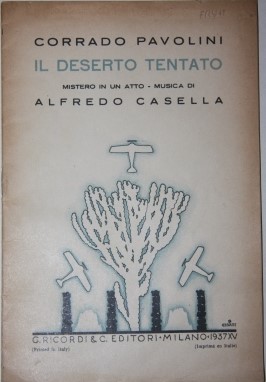 Price: $500.00
Publisher: Milano, G. Ricordi & C. Editori : 1937
Seller ID: 005398
Binding: Wraps
Condition: Very Good
---
Scarce libretto of a strange Futurist one act opera, with talking a tree (Euphobia), shrubs and airplanes among the characters, some of which are actually human --aviators, soldiers and natives -- even if they intone like actors in a Greek tragedy. This oddball propagandistic work, more an oratorio than opera, celebrates war ("sweet war"), aviation and territorial conquest -- the things that cast a spell on so many Futurists, and which were the essence of Fascism. Three copies located on OCLC of this libretto brochure, at Berkeley, Harvard, and one in Italy. (There are copies of the printed...
View More...