You must allow cookies and JavaScript for a proper shopping experience.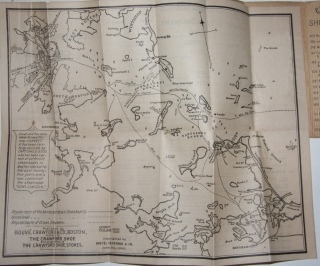 Price: $125.00
Publisher: Boston, Bouve, Crawford & Co. : 1890
Seller ID: 004792
Binding: Wraps or card.
Condition: Very Good
---
Closed, 133 by 57 mm. Open, the map is 24 by 29.5 cm. Promo info and the said timetable on the back. Fairly scarce, with just three copies located on OCLC.
View More...
Price: $950.00
Publisher: Chicago, Rand McNally & Co.
Seller ID: 006568
Binding: Box
Condition: Very Good
---
An unusual viewbook schraubtaler, or coin/medal shaped case housing within a leporello of coin-shaped cameo illustrations, this one made to look like a Liberty silver dollar and within containing 18 views, including the Old State House, the State House, the Brewer Fountain, the Boston Common, the Masonic Temple, Faneuil Hall, the Public Library, the Cultural and Studio Buildings, the Athenaeum Building, Beacon Street, the Park Street Church, the South Church, the Old Elm, City Hall, the new Post Office, the Custom House, the Old North Church, the Public Garden, the Hamolton Statue, and the Bun...
View More...