You must allow cookies and JavaScript for a proper shopping experience.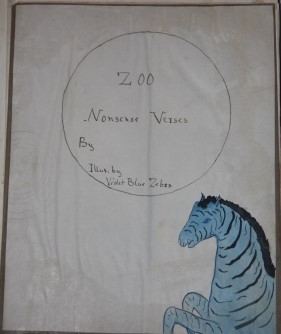 Price: $750.00
Publisher: England,
Seller ID: 006078
Binding: Hardcover. Homemade outer folder.
Condition: Very Good
---
N.d., circa 1910. 4to. 26 by 21.5 cm. 54 loose handwritten pages with 25 original half page pen-and-ink drawings of animals, sometimes anthropomorphosed, sometimes doing kooky things, occasionally with humans as well, and always illustrative of the jolly doggerel verses. The lilting nonsense of the poems co-exists with the vaguely pedagogic thrust of them. As an example there is the following: "See! up and down and round about its cage the Leopard trots,/ As Deer in winter shed their horns, so Leopards shed their spots." The illustrations are charmingly naive -- the naivete is ...
View More...